On Wednesday, 9 May 2018, a ceremony was held at Chulalongkorn University to receive the ISO 13485:2016 quality management system certification from the leading global inspection company TÜV SÜD (Germany) for the CU Unipolar Hip Prosthesis device.  Chulalongkorn University is the first in the country to obtain the complete accreditation that includes design, development, production, and distribution.  There to receive the certification was the research head, Assistant Professor Pairat Tangpornprasert from the Department of Mechanical Engineering, and Dr. Supichai Tangjaitrong, Deputy Managing Director of Chula Unisearch to receive the certification.  Professor Dr. Bundhit Eua-arporn, President of Chulalongkorn University, presided over the ceremony.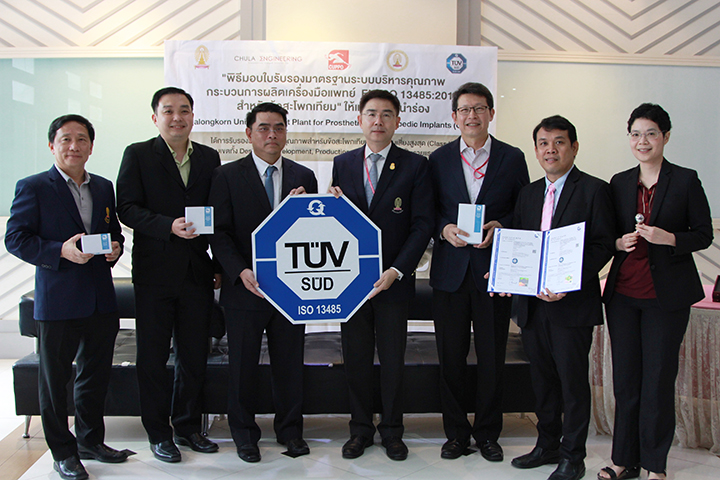 The CU President stated that orthopedic implants are expensive devices that still need to be imported.  However, patients with broken hip fractures in Thailand that require and have access to hip joint surgical treatment amount to 5,000 – 10,000 per year.   This means that several hundred million baht of funding is needed annually.   Additionally, imported orthopedic implants are often not designed to fit the physique of Thai patients.
"In order to reduce the cost of treatment and the need to import orthopedic implants, researchers from the Faculty of Medicine and the Faculty of Engineering have worked diligently to develop a hip prosthesis device.  The CU Unipolar Hip Prosthesis is the first in Thailand to obtain the quality standard certification, ISO 13485:2016, for design, development, production, and distribution from TÜV SÜD Germany," said Professor Dr. Bundhit.
Thanks to the pilot plant at the Department of Mechanical Engineering and support from the Ratchadapisek Sompoch Endowment Fund, the research team has been able to collect real data and conduct experiment to produce the hip prosthesis.  Assistant Professor Pairat Tangpornprasert added that the team has designed and developed the hip prosthesis using bone cement as a filler to help affix the bones. The researchers also had to examine the physique of Thais to make sure the prosthesis is suitable.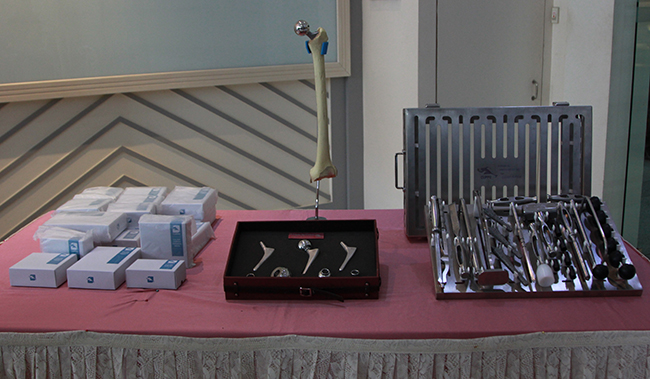 Assistant Professor Pairat explained that, "The hip prosthesis has passed the hip implant fatigue test (ISO 7206) from Germany and the Bio-compatibility test (ISO 10993) from Singapore during 2016-2017.  The next step is to pass the clinical investigation of medical devices ISO 14155 for the Unipolar Modular Hip Prosthesis.  The team plans to use the CU Unipolar Hip Prosthesis device on 10 patients in May 2018 and will apply for an international certification, such as the CE Mark or USFDA.  The goal is to produce an international-grade quality hip prosthesis and make it available to the local market once the device is certified."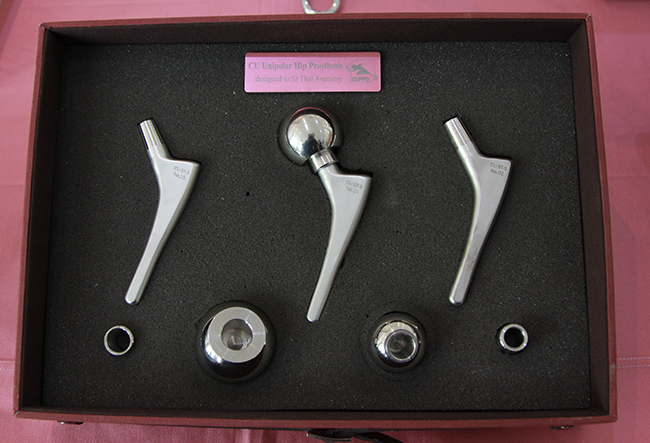 SHARE