On Thursday, 23 May 2019, the Center of Excellence on Biodiversity at Chulalongkorn University, in collaboration with the Office of Higher Education Commission and the Thailand Research Fund, held a press conference during the International Conference on Biodiversity 2019 to announce the discovery of 91 new species of millipedes in Thailand.
Led by Dr. Somsak Punha of the Department of Biology and Director of the Center of Excellence on Biodiversity, the research team has discovered nearly 100 new millipede species, classified into 8 sub-groups.  One of the most popular discoveries included the the Shocking-pink Dragon Millipede, which became one of the 10 best newly discovered species of the world, according to the International Institute for Species Exploration.
A total of 228 millipede species have been discovered in Thailand, with 34 published researches.  The samples and information collected has become one of the most complete collection of data on Southeast Asian millipedes.  Known as moving fertilizers, millipedes are useful for the forest ecosystem as they feed on decaying leaves and return nutrients to the soil.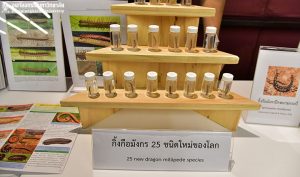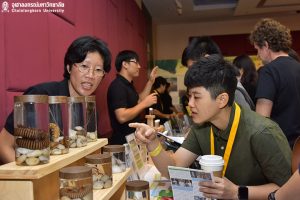 SHARE