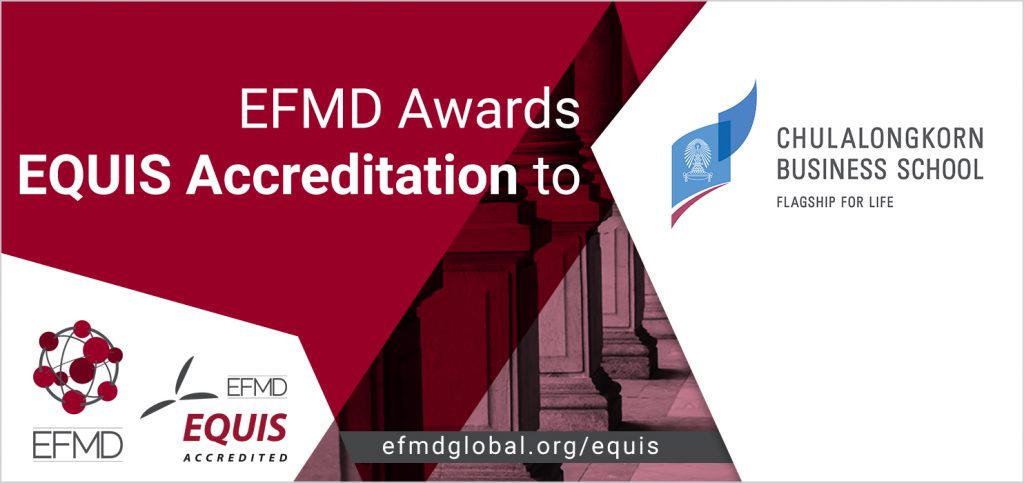 Chulalongkorn Business School's European Quality Improvement System (EQUIS) accreditation has been reaffirmed by the European Foundation for Management Development (EFMD).  The accreditation was officially made in June 2019, when Asst.Prof. Wilert Puriwat, Dean, Faculty of Commerce and Accountancy, and Asst.Prof. Dr. Oranuj Soongswang, Director of International Accreditation Office, accompanied by the accreditation team, represented Chulalongkorn Business School at the EFMD Annual Conference in Carcavelos, Portugal, to receive the EQUIS accreditation.
The EQUIS is one of the most recognized international quality assurance systems for higher education institutions in business and management, from undergraduate level to PhD.  It serves as a guarantee for quality control and a way to gauge the school against international standards in terms of governance, programs, students, faculty, research, internationalization, ethics, responsibility and sustainability, as well as engagement with the world of practice.
With the recent accreditation, Chulalongkorn Business School is now endorsed by two globally recognized accrediting organizations – the AACSB (Association to Advance Collegiate Schools of Business) and the EFMD (the European Foundation for Management Development), with EPAS accreditation for MSF and BBA programs, and the EQUIS accreditation.
These accreditations confirm that Chulalongkorn Business School will move forward, continue to build its strength as a top business school, and be the leader in social sustainability in Thailand.
SHARE