The most momentous time of the year at Chulalongkorn University is just around the corner.
The Commencement Ceremony for academic year 2018 will be held at the CU Auditorium on 3 – 4 October 2019.
Leading up to the big day are rehearsal activities, which are scheduled between 7 – 30 September 2019, and group photo sessions on the weekends between 7 – 28 September 2019.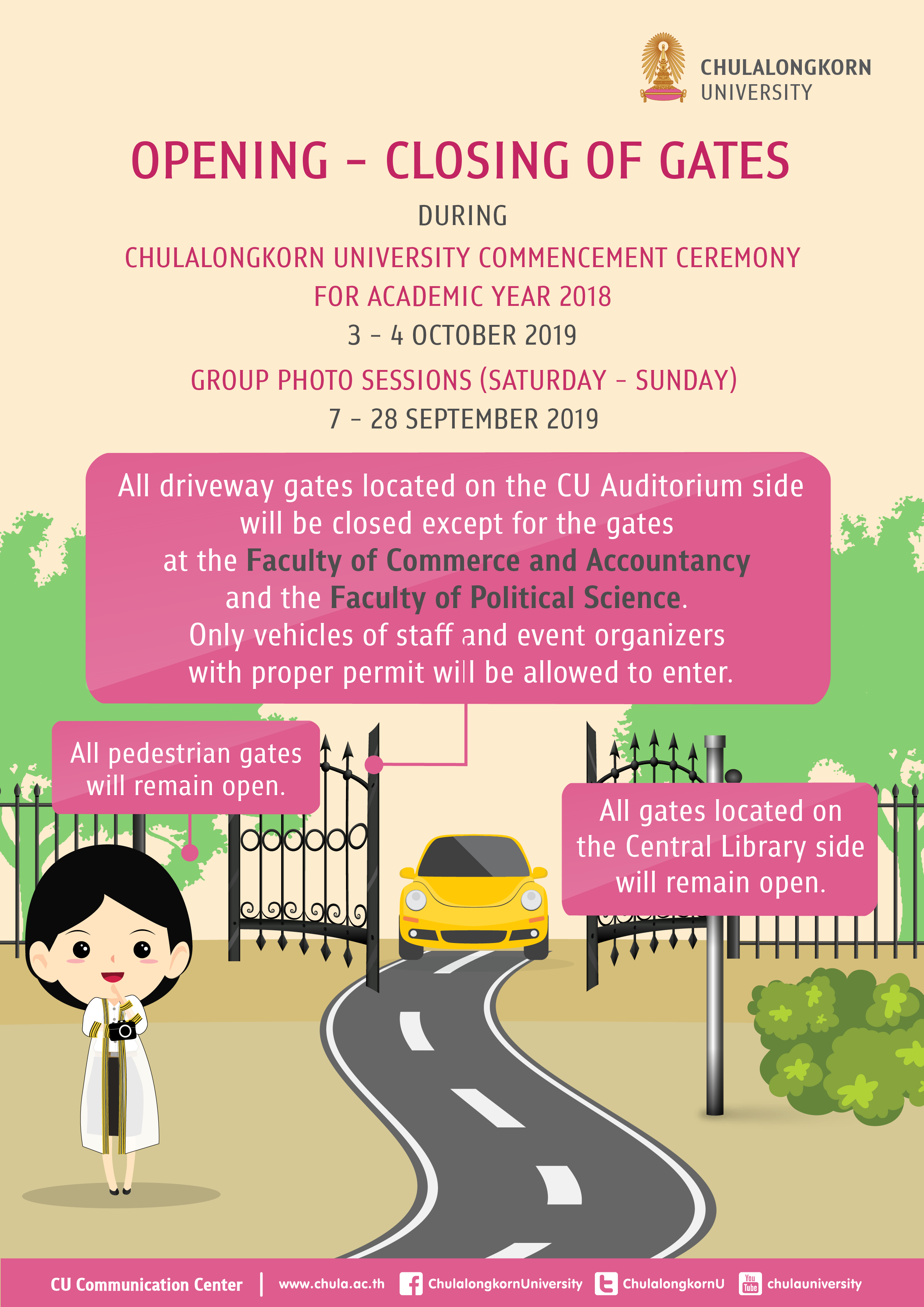 During the CU commencement days and group photo sessions, thousands of graduates, visitors, and students will be making their way to the CU campus. As traffic during the commencement activities can be rather heavy, the university would like to ask all graduates and guests to be mindful of these practical guidelines:
• All driveway gates on the CU Auditorium side will be closed, except for the gates at the Faculty of Commerce and Accountancy and the Faculty of Political Science, which will allow only vehicles with proper permit to enter. All pedestrian gates will remain open.
• Avoid driving to campus on the given dates. The CU Shuttle Bus No. 1, 2, and 5 will operate as normal, free of charge.

Bus Operation Hours:
CU Commencement Day from 6:00 AM – 8:00 PM
Group Photo Sessions from 7:00 AM – 7: 00 PM
• Chulalongkorn University requests that graduates refrain from decorating the graduation gown or wearing flower crowns, as the CU gown is an honorable attire and should be worn as originally designed.
• The University asks that gifts and presents be kept at a minimum in order to help reduce waste and follow the Chula Zero Waste program.
For related information, please see
– Faculty Schedule for Graduation Ceremony >>English version<<
– Rehearsal Schedule (by faculty) >>English version<<
– Group photo Schedule >>English version<<
– Instructions for Graduation Ceremony >>English version<<