Announcement of Chulalongkorn University: Permission for Absence from Class and Work during the 2019-nCoV Infection Outbreak
As there is clear evidence that a number of people infected with the novel coronavirus (2019-nCoV), which originated in the city of Wuhan in the People's Republic of China, have entered Thailand, Chulalongkorn University is taking action to safeguard the health of its students and staff.
The University hereby invokes the authority under Articles 32, 77 and 86 of the Chulalongkorn University Act B.E. 2551 together with Item 15, third paragraph, of the Prime Minister's Office Regulations on Leave of Absence for Government Officials B.E. 2555 and Item 10, second paragraph, of Chulalongkorn University's Regulations on Leave of Absence for University Employees B.E. 2551 and declares the following:
1. Any student or staffer who had arrived from overseas or has been in proximity of travelers from overseas, particularly from the People's Republic of China or areas at risk of such infection, during the past month but has shown no symptom is to take a leave of absence for 14 days for observation purposes. Such absence shall not be counted as dereliction of duty or absence or leave days.
2. Students or staffers referred to in (1) shall notify their department or work unit as early as possible.
This announcement takes effect immediately.
朱拉隆功大学
关于新型冠状病毒感染的肺炎疫情防控期间停课停工的通知
鉴于目前来自中华人民共和国武汉市的新型冠状病毒感染的肺炎coronavirus (2019-nCoV)疫情严峻 ,并有证据证明已有一部分病人或者被感染者进入泰国,朱拉隆功大学考虑到学校每个学生及教职员工的健康与安全。
根据2008年颁布的朱拉隆功大学管理条例第32、77、86条第二款,以及2012年实施的总理府工作条例第15项第三款关于公务员请假规定和2008年实施的朱拉隆功大学管理条例第10条第二款关于大学教职员工请假规定,做出如下安排:
1. 自一个月以来,从外国回来的或与从外国回来的人有过密切接触过的,尤其从中华人民共和国或有疫情的危险地区回来的学生和教职员工,即尚未有任何症状,上述学生和教职员工停课或者停工14天,以观察其症状。上述期间将不视为旷课、旷工或请假。
2. 符合第一项条件的学生及教职员工,请尽快向自己所属的单位部门报告。
此通知自公布之日开始实施。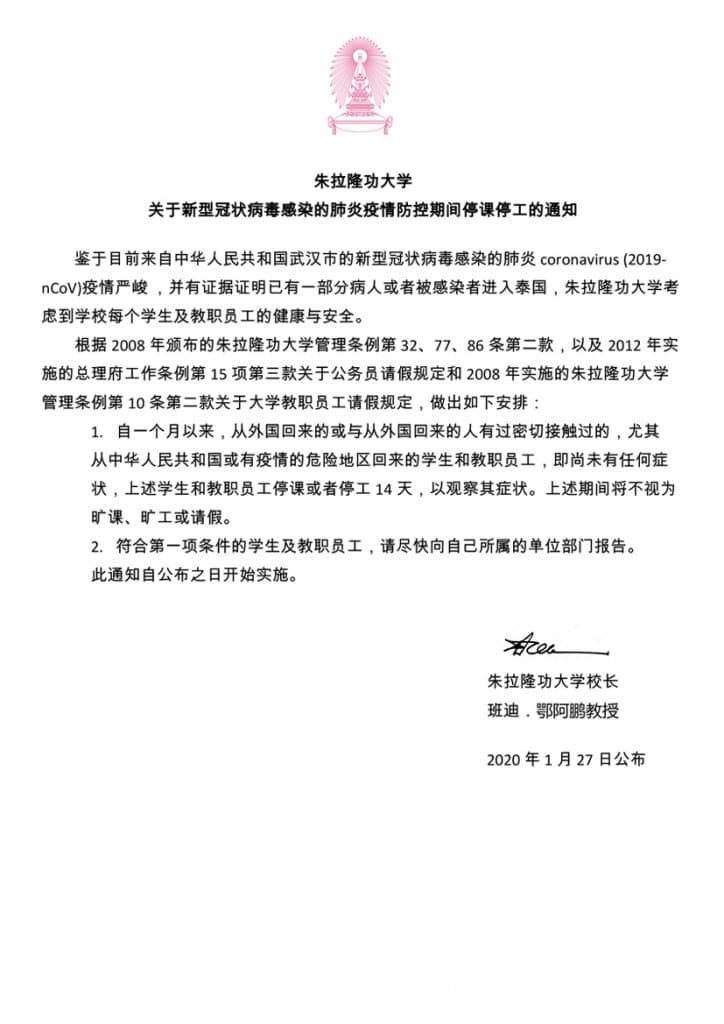 SHARE