Dear members of Chulalongkorn University community,
I am writing to you all to offer a message of support and solidarity amid the COVID-19 pandemic and the consequences it has wrought upon our community.
On behalf of all of us in the university administration including all the deans and directors, I would like to offer our sentiments of appreciation to all faculty members, supporting staff and students who have in the past few weeks handled this difficult time in exceptional fashion.
Despite their varying technical skills, all our ajarns have made the effort to put classes online, reschedule their timetable and teaching plans while students have adjusted favorably to the new learning arrangements. Many students, particularly those from other provinces and other countries also scrambled to return to their homes under uncertain circumstances, while making sure that they kept up with their academic pursuits.
Alongside, supporting staff have been a strong force in trying to facilitate all endeavors related to this crisis and some even volunteered to help with the CU V Care project which was quickly assembled by vacating and refurbishing two residential buildings on campus to accommodate patients in recovery from COVID-19 as well as those under investigation.  So far, 23 persons within the Chula community have been able to avail of this service and we are now opening our doors to recovering patients from the adjacent King Chulalongkorn Memorial Hospital which currently faces overcapacity.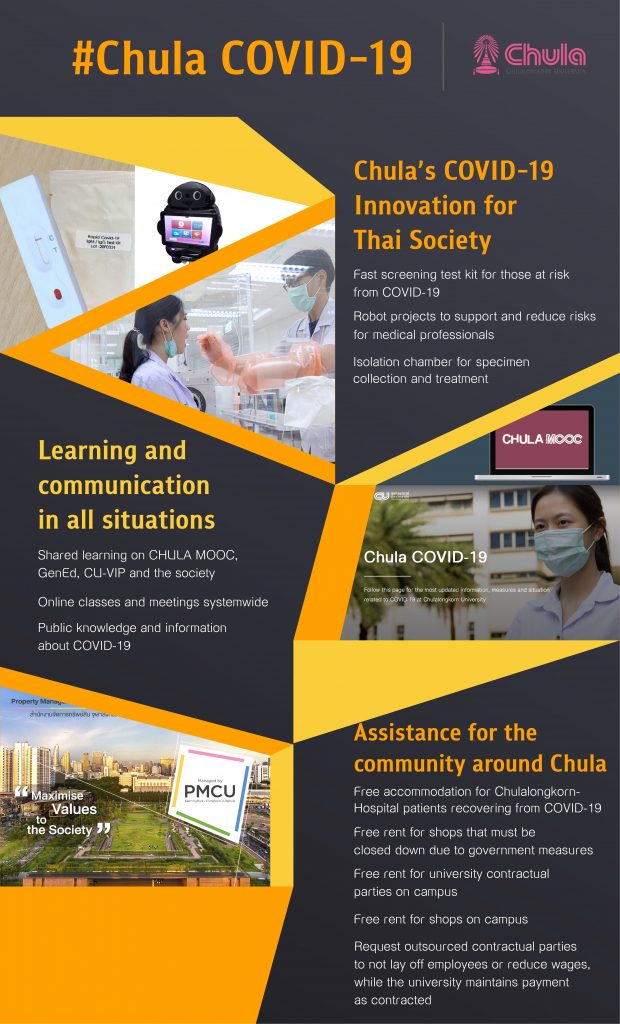 I would also like to offer my gratefulness to the university health center which deserves special praise.  Apart from offering COVID-19 screening and testing services, the center has also worked closely and tirelessly with the specially appointed COVID-19 emergency operation taskforce.  This center and the taskforce have been working with public health officials to monitor the ongoing spread of the virus on our campus.
Until now, we have been notified of four confirmed cases of COVID-19 within our community.  Upon confirmation of the positive cases, the taskforce and the units that made the notification closely followed our internal SOP by conducting immediate contact tracing, identifying and communicating with close contacts of the positive cases in addition to area disinfection, and disseminating necessary information to the public.  Each case was handled with compassion and care as we strictly maintained the privacy of these individuals. In this matter, I would like to request our community to protect and respect the rights of these members of our community, on legal as well as moral grounds.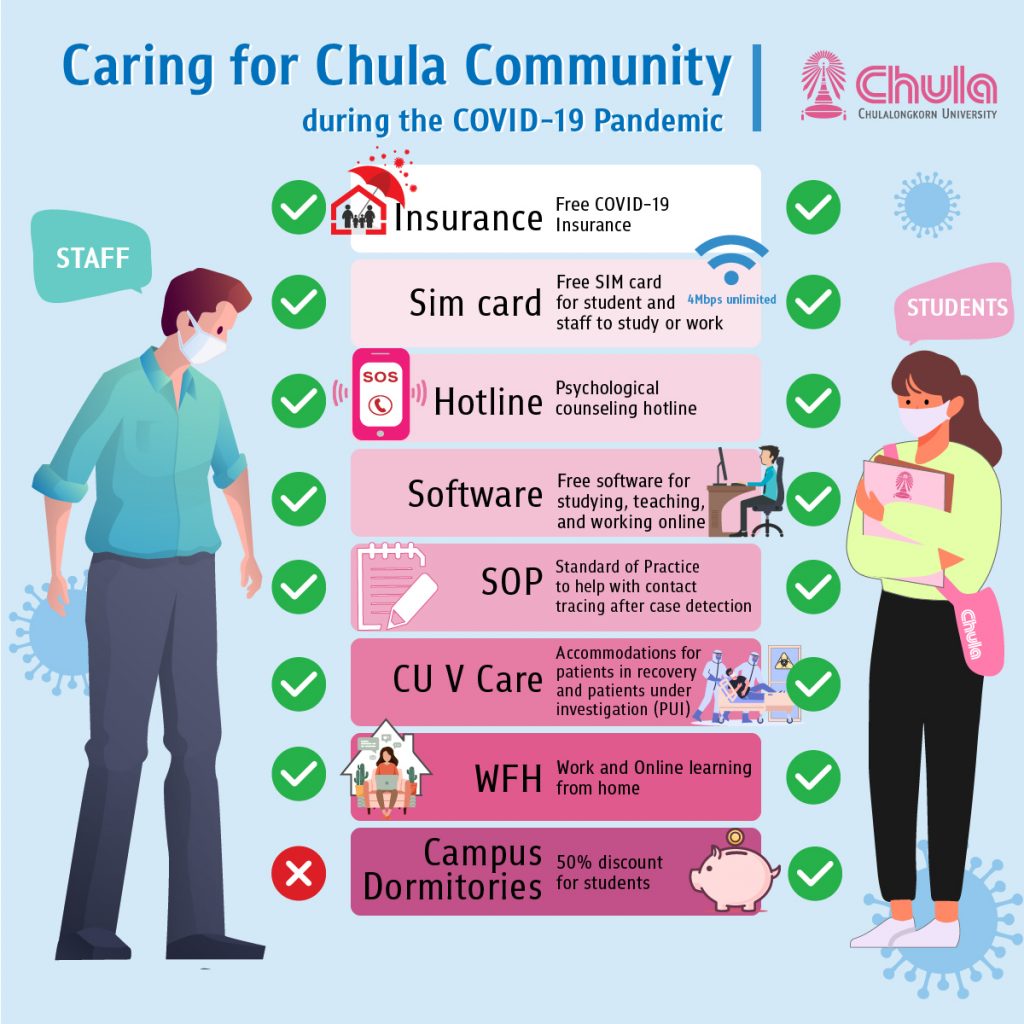 This is indeed a difficult time which requires thinking outside the box to pursue a cutting-edge innovation to help alleviate the situation.  May I express our thankfulness to those members of our community who are accelerating frontier research and new innovation to fight Covid-19.  Several of your efforts have indeed borne fruits and are applauded and appreciated locally as well as internationally.On the part of the university, we have exercised our best efforts even at the onset of the global virus spread implementing swift prevention and control measures, while taking care of members of our community in all dimensions – education, health, welfare, and information.  This gesture has also been extended to the surrounding community particularly the commercial area on the university premises.
The past few weeks have evidently reflected the sacrifices that all of you have made for the greater good.  I am deeply proud and thankful to be a member of a community that has responded with such grace and such speed.   The coming weeks are likely to bring more difficulties and critical adjustments. Yet, I have immense confidence in our continued ability to respond with courage, compassion, knowledge and innovation.  May we also strive to be in solidarity with one another while maintaining the needed social distance as well as take strength in knowing that we will get through this historic challenge together.
And, as always, please continue to consult Chula COVID-19 website, available in both Thai and English, for the most up-to-date information (including the number of confirmed cases) and FAQs, along with all of the messages that have gone out to date to students, faculty and staff.
With gratitude and admiration,
Professor Bundhit Eua-arporn, Ph.D.
President
SHARE