In the light of the rapidly evolving COVID-19 pandemic, Chulalongkorn University population studies experts warn that older adults are at greater risk of catching the virus and dying from the disease as they are more likely to have a pre-existing medical condition and a weakened immunity.
"The most risky group of individuals are seniors that live alone. In such a scenario, neighbors and people in the area should help check in on them and help out with providing food, water, medicine, and monitoring whether they have symptoms that can lead to the disease", says Professor Dr. Vipan Prachuabmoh, Dean of College of Population Studies at Chulalongkorn University.
According to data from the National Statistical Office in 2017, from a total of 12 million seniors in Thailand, about 10.7% live alone, while 20% live with a partner. In the rural areas, the number of seniors living with a partner is slightly higher than in the city.
Moreover, about 39% of seniors in Thailand are earning less than THB 30,000 per year. Of these seniors, 44.5% live in the rural areas while the other 31.1% are in the city.
Living alone with limited income can be a barrier to accessing standardized medical and public health services. Professor Vipan Prachuabmoh also shares her concern for the elderly living in rural areas with children who have relocated to work in the city, but are making their way back to their hometown after the closure of public venues as announced by the Bangkok Metropolitan Authority. "There's a chance that these young individuals, although appearing healthy, may carry the disease back to their hometown and infect their loved ones. It is important for everyone to carefully consider the situation. Think about the seniors who are at high risk. If returning home is unavoidable, people need to make sure they follow a strict self-quarantine for at least 14 days to monitor symptoms. Nonetheless, the best measure is to avoid travelling. Remember, seniors are the most at risk of infection and death", says Professor Dr. Vipan Prachuabmoh.
Professor Dr. Vipan Prachuabmoh shares an observation that the reason most developed countries have a high number of death toll from COVID-19 is due to the aging population – of which seniors accounted for more than 1 in 5 of the total population. For example, Japan has the world's highest population of individuals above the age of 60, which accounts for every 1 in 3 people.  Closely behind is Italy, which ranks second in the number of seniors.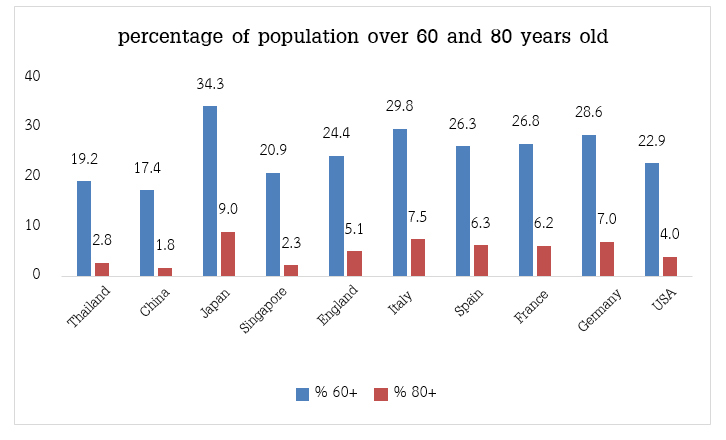 Thailand is a developing country that is rapidly becoming an aging society. According to statistics from developed countries, there are currently around 12 million seniors. Therefore, if there are no precautions, resources, or policies to support the ageing population during trying times like these, it is likely that we will continue to lose more seniors.
Source: United Nations, Department of Economic and Social Affairs, Population Division (2019). World Population Prospects 2019
SHARE