The Department of Library Science, Faculty of Arts, Chulalongkorn University is accepting applications for Master of Arts in Information Studies (M.A. in Information Studies) and Doctor of Philosophy in Information Studies (Ph.D. in Information Studies) for Academic Year 2020. Both programs are taught in English and require a full thesis.
The graduate program in Information Studies prepares students to become proficient, independent, and abled scholars, capable of finding solutions to evolving challenges in information studies, and leaders in the information and library science profession. A residency is required during the coursework period, and for doctoral students, a qualifying exam will be administered within the third or fourth semester after entering the program. A complete thesis/dissertation, oral presentation, and academic publications are required to be eligible for graduation.
The application period is open from now until 31 May 2020.
Interested applicants can get more information and the online application form at http://www.arts.chula.ac.th/libsci/ma-phd/?page_id=12.
To apply for a scholarship, visit https://www.grad.chula.ac.th/en/scholarship.php?type=1
For more information, contact The Department of Library Science,
Faculty of Arts, Chulalongkorn University
Tel. 0-2218-4817, 09-6202-3310
e-mail: libsci@chula.ac.th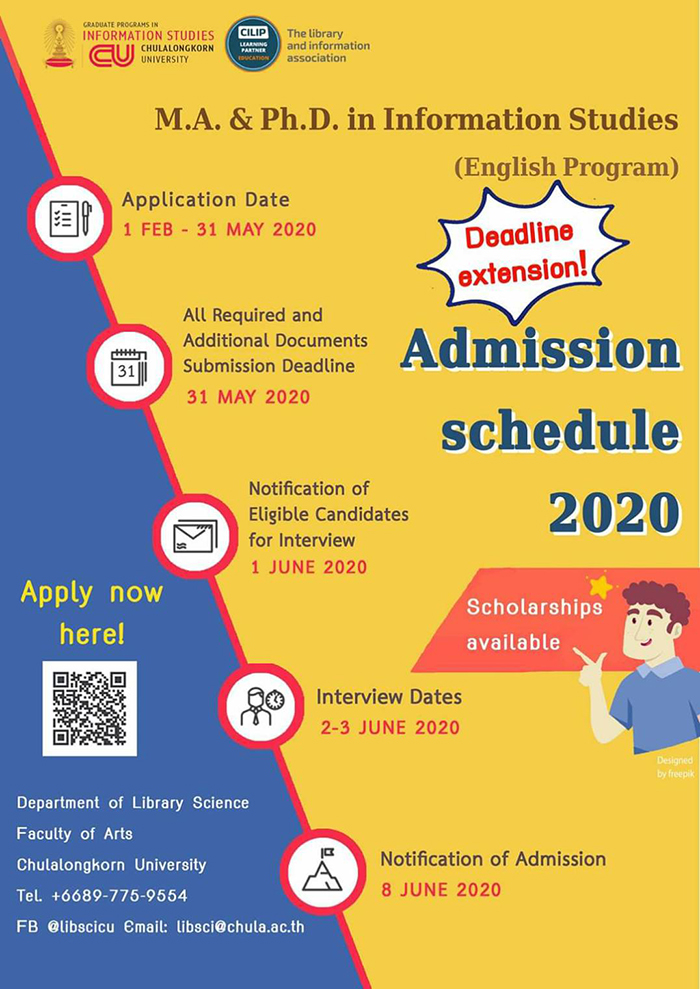 SHARE