As Chulalongkorn University reopened on 1 July 2020, the University is requesting for cooperation from all staff, students, and campus visitors to comply with the standard health guidelines as issued to schools nationwide by the Public Health Ministry and the Centre for Covid-19 Situation Administration (CCSA). To prevent the spread of Covid-19 on campus, the following seven key measures and five supplementary precautions will be administered:
7 Key Preventive Measures
Daily waste disposal and periodic cleaning and disinfecting of classrooms, restrooms, and frequent touchpoints.
Staff, students, and campus visitors must wear a face mask at all times.
Setup hand-washing facilities with soap or alcohol gel.
Arrange seating or standing areas with social distancing of at least 1-2 meters apart.
Limit the number of participants joining activities that require physical contact to 4 square meters per person. The University will explore shortened class hours, alternate study schedules, and online classes to facilitate the learning environment.
Comply with preventive measures as issued by the government.
Monitor on campus and building entry with mandatory registration via the government launched application.
5 Supplementary Measures
Setup screening checkpoints to measure temperature and screen for symptoms before entering the campus.
Ensure proper ventilation in buildings, restaurants, and frequently clean the air conditioners.
Arrange a waiting system for dining areas and bathrooms, keeping the queues at least 1 meter apart.
Schedule an instructional session for staff and faculty members to monitor symptoms and make sure all activities are hosted in strict accordance to the key preventive measures.
Develop innovation and technology to support e-learning.
(Guidelines as issued by the Centre for Covid-19 Situation Administration)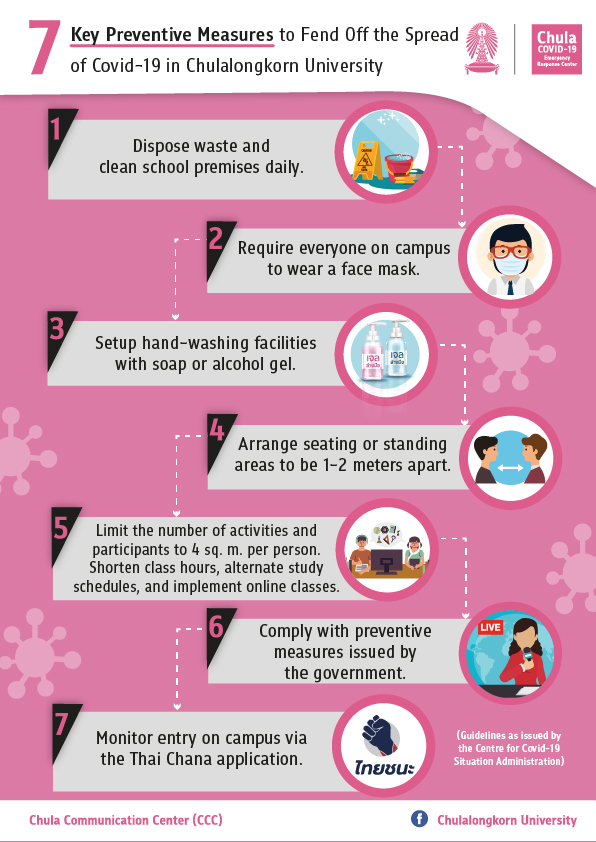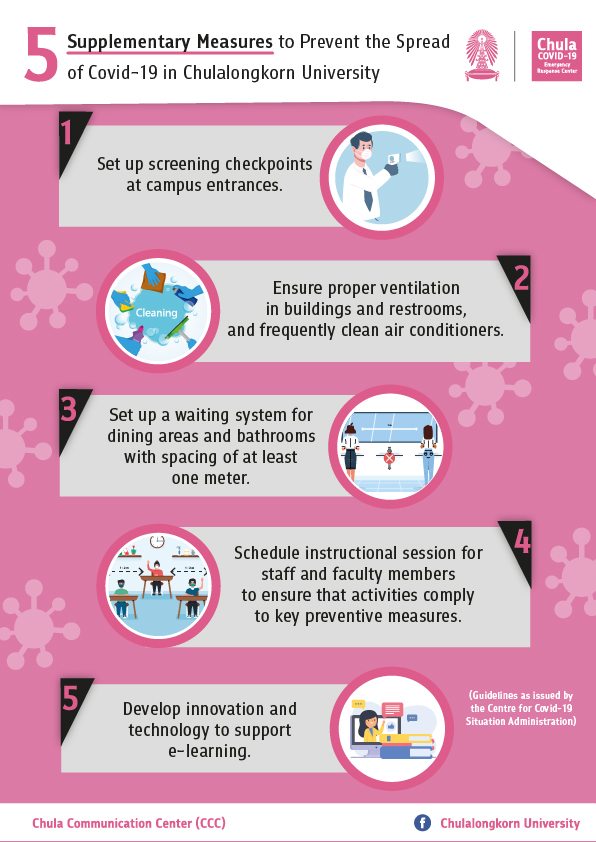 SHARE