Let's give it up for BALAC's winning trio! On November 20, 2018, CU students from the Faculty of Arts, International Program (BALAC) won first place at the latest Redesigning Thailand #5 competition hosted by the Thailand Development Research Institute.  The winning proposal,"Gen X: Aging With Vitality" social policy, was created by Tamakorn Chansawang, Nithinan Jangwanich, and Sarita Pitakteeratham.
To watch the full video of the competition, click : https://www.facebook.com/tdri.thailand/videos/2243278119241536/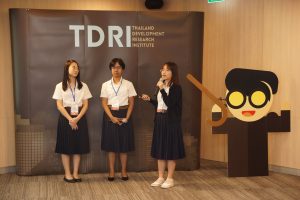 Photo credit: Thailand Development Research Institute (TDRI) Facebook page.