On 22 March 2019, Chulalongkorn University held a press conference at Chula Naruemit House to raise awareness on the essential role of the University in reducing waste on campus from single-use or disposable plastics.
Professor Bundhit Eua-arporn, President of Chulalongkorn University spoke about the University's efforts to become a sustainable university and the Chula Zero Waste project. Associate Professor Boonchai Stitmannaithum, Vice President for Administration, also underlined the importance of reducing plastic waste, while the Chula Zero Waste Project Manager, Dr. Sujitra Vassanadumrongdee and Mr. Vorrapong Sukteera-anantachai, Director of Office of Property Management discussed the collaboration with tenants to reduce plastic waste in commercial areas.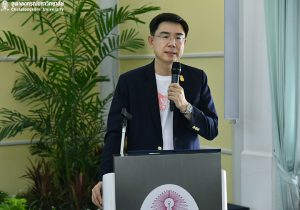 The press conference also featured a seminar on "The Issues of Plastic Waste and the Roles of the University" by Associate Professor Dr. Suchana Chavanich, Department of Marine Science, Faculty of Science, Chulalongkorn University. Participants in the seminar included Siraphun Wattanajinda, actress and owner of the ECOLIFE application, and students from the Chula Zero Waste club.  An exhibition about waste management was also on display, showing off an intelligent self-sorting trash bin created by a student from the Faculty of Education, and art sculptures made from plastic waste by students from the Faculty of Fine and Applied Arts.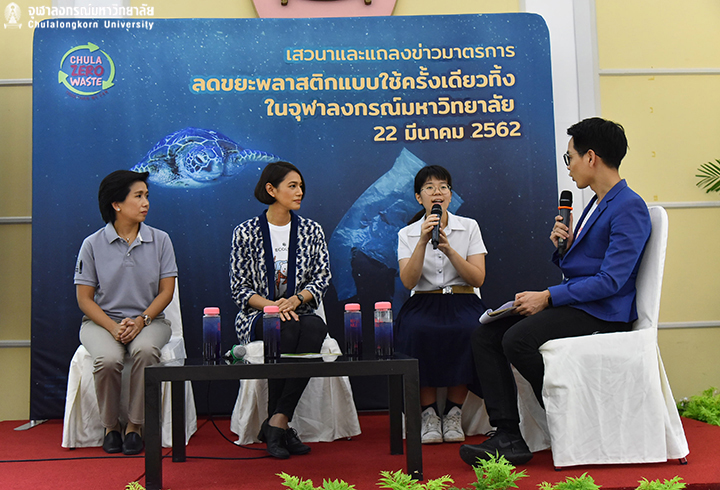 The policy to reduce one-time use plastics will be encouraged in all shops on campus. This includes reducing the use of foam and plastics that are oxo-degradable and limiting the handout of free plastic bags, except for hot meals.  Moreover, plastic cups in the canteen will be replaced with zero-waste cups made from paper and coated with bioplastics, which can be decomposed within 4-6 months.  Straws and plastic utensils will only be distributed upon request and the University will continue to encourage the use of paper bags, compostable plastics, and fabric totes.
These measures to reduce plastic waste will be implemented on-campus from 26 March 2019 onwards, during the celebration of Chulalongkorn University's 102nd anniversary.  Similar measures will be encouraged in the commercial areas, starting  24 November 2019.
For more information about Chula Zero Waste:
Call: 0-2218-8127
Email: chulazerowaste@gmail.com
Facebook: www.facebook.com/chulazerowaste
Website: www.chulazerowaste.chula.ac.th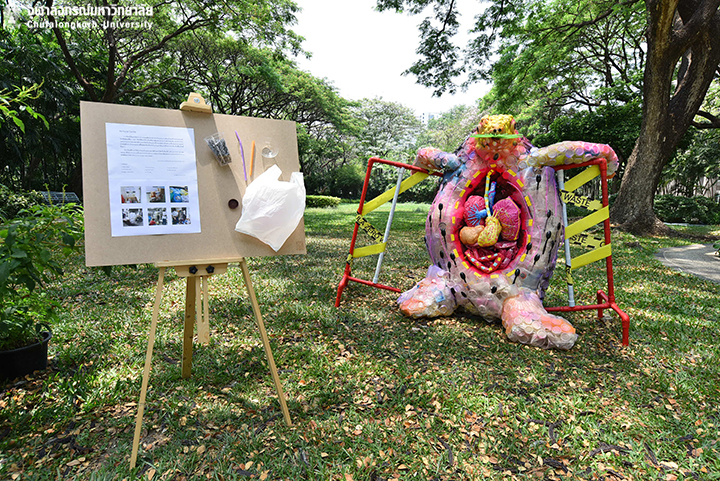 SHARE