Chulalongkorn researchers at the Faculty of Allied Health Sciences have recently introduced "Omebauce", a holy basil stir fry seasoning sauce that offers the right balance of omega fatty acids.  Although referred to as one of the most popular Thai dishes, holy basil stir fry has high levels of fat and omega-6, which may lead to inflammation or blood clots if consumed excessively.
Professor Dr. Sukrit Sirikwanpong from the Department of Nutrition and Dietetics explains that, "Thai holy basil stir fry is a favorite for Thais and people around the world.  It is especially popular in Japan and is one of the top 15 international dishes people in Japan cook at home. Omebauce is special because it helps balance the omega fatty acids while offering a wholesome flavor. In other words, consumers do not have to compromise their health for a favorite dish."
"Omebauce contains components of sesame and is high in omega-3.  For every stir fry dish, the recommendation is to use 3 tablespoons of the sauce, with vegetable oil and meat", adds Professor Dr. Sukrit Sirikwanpong.
The creation of Omebauce was not easy. After years of development,  the researchers finally had a sauce with a balanced nutrition and good taste.  The project began with a thorough market research and various rounds of testing until a sauce that was consistent in taste and could be refrigerated up to a year was produced.
Omebauce was recently awarded a silver medal from the Innovation in Higher Education category at the Thailand Research Expo 2019 and has been registered under the Intellectual Property Institute of Chulalongkorn University, with plans to go commercial in the near future.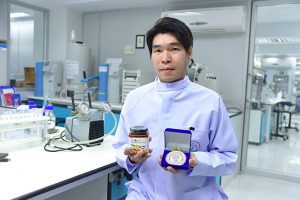 SHARE