The cabinet has resolved at its meeting on March 17, 2020 protective measures against the spreading of COVID-19 that there be a temporary closure of educational institutions from Wednesday March 18, 2020 for a period of two weeks and that those educational institutions strictly adhere to the standards set forth by the Ministry of Health for the prevention of diseases.
By virtue of Section 27 and Section 32 of the Chulalongkorn University Act B.E. 2551, the University therefore issues the following orders:
1. That instruction be offered online for all courses in accordance with the Chulalongkorn University Announcement on Guidelines for Instructional Management under an Extraordinary Circumstance as a Result of COVID-19 Infection Outbreak (No. 3) dated March 16, 2020.
2. That staff members comply with the Chulalongkorn University Announcement on Guidelines for Staff Members during the COVID-19 Infection Outbreak dated March 16, 2020.
3. That staff members refrain from all foreign travel from March 18-31, 2020.
4. That university administrators, administrators of work sections, administrative directors of work sections, academic directors for work sections, administrators of work sections in university offices, and the office of the university council from the level of the section director and above report to work as they usually do. Should it not be possible for them to report to work there must be channels open for contact and communication, online meetings or for instructions to be given at all times.
These orders shall be effective from March 18, 2020 until March 31, 2020 or until further orders are given dictating otherwise.
Given on March 17, 2020

(Prof. Dr. Bundhit Eua-arporn)
President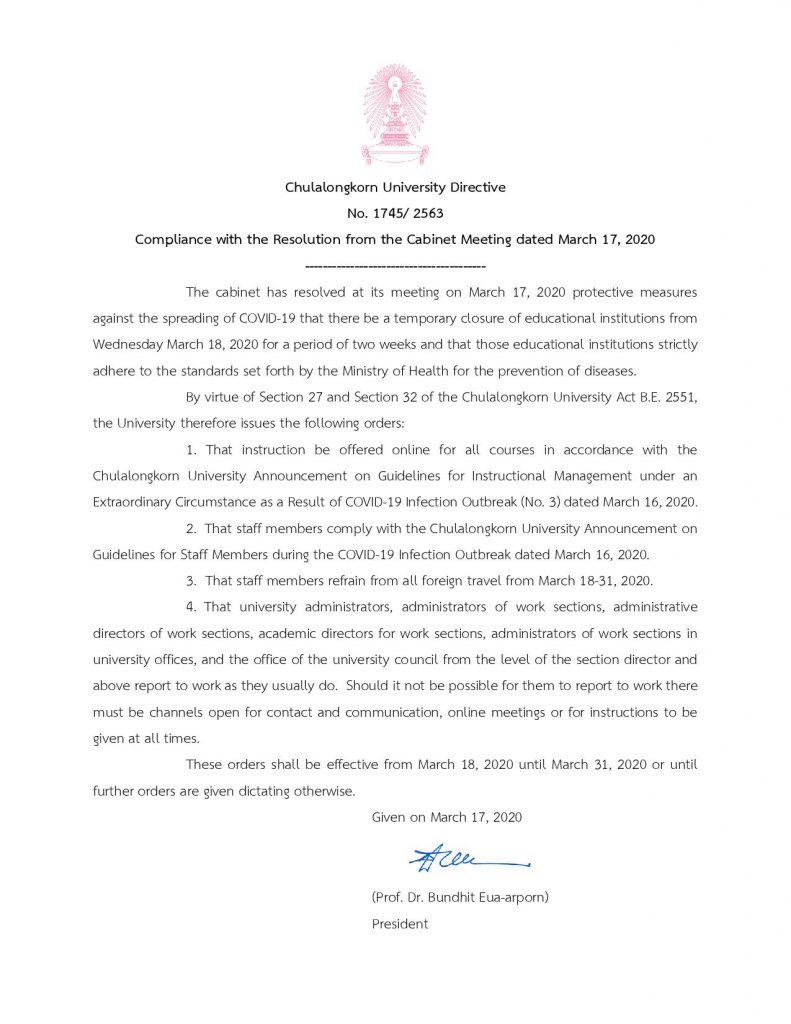 SHARE