We are pleased to inform you that Chulalongkorn University will be going to organise the "Active Recruitment" in Indonesia from February 19 to 23, 2019. This project is a brand new project initiated by the Faculty of Medicine, aiming to facilitate the on-site international admission process for prospective students from abroad who are interested in continuing their graduate and post-graduate studies at Chulalongkorn University.

In this respect, we wish to send our representatives from the Faculty of Medicine, the College of Public Health Sciences, the Faculty of Dentistry, the Faculty of Arts and the Faculty of Architecture to interview potential international candidates.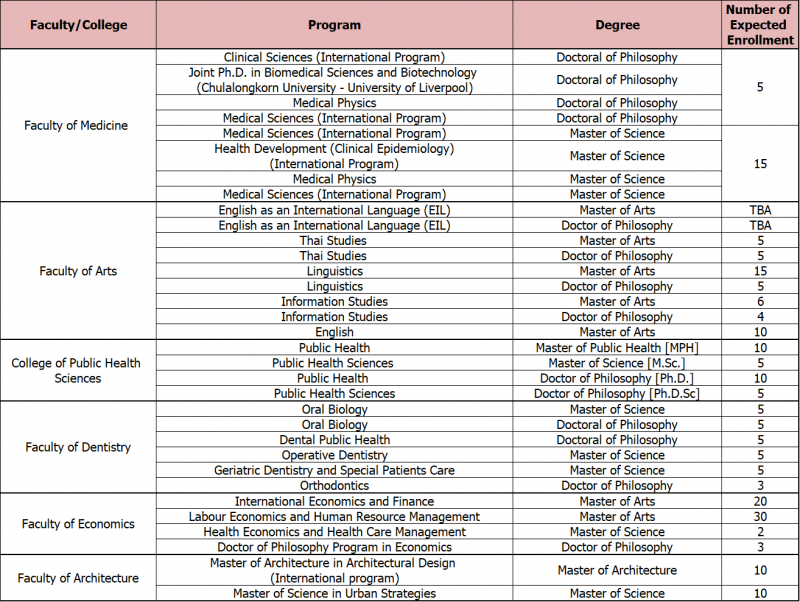 Here are the link for more information and submitting online application (postpone the deadline to 15 February 2019);
http://grad.md.chula.ac.th/activerecruitment
2. Faculty of Arts:
http://www.arts.chula.ac.th/~sandbox/on-site-interview-and-active-recruitment-2019-indonesia/
3. College of Public Health Sciences:
https://goo.gl/forms/nroQaQdEr1t4mBEw2
4. Faculty of Dentistry:
https://docs.google.com/forms/d/e/1FAIpQLSf7B2OUqxWgsk-Aq98pf9uj7szwjpNB5yxcgJyvC0EMDaMSnQ/viewform
5. Faculty of Architecture:
Master of Architecture in Architectural Design: http://www.imarch-chula.com/admission/
Master of Science in Urban Strategies (MUS): https://goo.gl/forms/DLq1agyPth518mcC3
The proposed date of this activity
– at the Margo Hotel, Jakarta, is Wednesday, February 20, 2019, 09.00-16.00 hrs. (local time) and
– at the Novotel Jogja, Yogyakarta, is Friday, February 22, 2019, 09.00-16.00 hrs. (local time).
If you have any further inquiries,
please contact the Office of International Affairs and Global Network at email: int.off@chula.ac.th
SHARE